Designer:

Profilgessi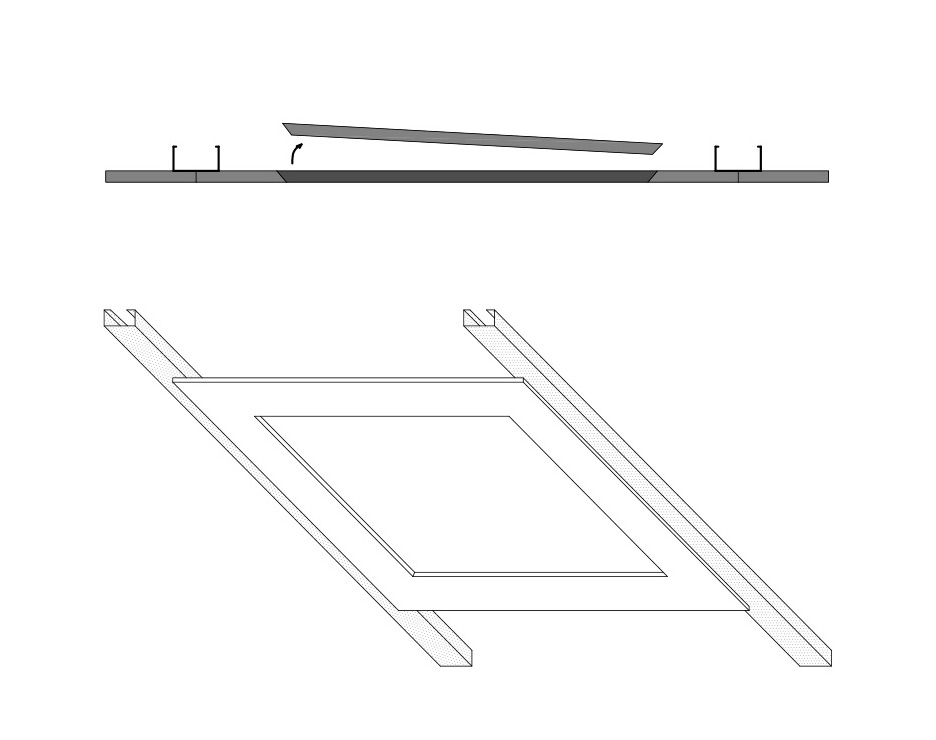 Standard trapdoors
The trapdoors of flat series are made with plates of plaster fiber of the thickness of 12.5mm compatible with the types of the other plates. Made with method resting on inclined cut.
Benefits
Without problems of detachment of the plaster from metal profiles
Without problems of loosening of the springs and then the cover
Resistant to shock and falls because made in plaster fiber
Simple, effective, practical and economic
Without finishing problems because the painting roller covers any difference of surfaces and from that of the plasterboard.
Dimensions: See table products.
We are also able to produce any element on measure such as perforated plates, company logos, custom, pre-built elements with cuts of any shape for the diffusion of light or air.
Material: The plaster fiber is a material consisting of a homogeneous mixture of gypsum (about 80%) and high quality cellulose fiber (20% recycled paper). The mixture is mixed with water and compressed to high pressure, so as to form plates and resistant monolithic, subsequently dried and cut.
Considerations: The so-called \\\\\\\\\\\\\\\\\\\\\\\\\\\\\\\\\\\\\\\\\\\\\\\\\\\\\\\\\\\\\\\"light construction\\\\\\\\\\\\\\\\\\\\\\\\\\\\\\\\\\\\\\\\\\\\\\\\\\\\\\\\\\\\\\\" more specifically related to the field of building systems Cleaning, has until now been living for the vast majority of cases of application performed with plasterboard (drywall).
For several years until now is becoming increasingly popular use of plaster fiber applied individually or mixed with plasterboard. It is a more consistent product with high mechanical strength, suitable for supporting, with the necessary fastening systems, loads of high mass as kitchen cabinets and so on. Reflecting on these specific characteristics of plaster fiber, we decided to start a production of standard and closed trapdoors, in support to the ceiling.
Density: 1000 – 1250 Kg/m³
Thermal conductivity λ: 0.30 W/mK
Resistance to water vapor diffusion μ : 21
Reaction to fire (EN 13501): A2-s1 d0
Dimensional Change: 0:30 mm / m (at 20 ° C and variation in relative air humidity of 30%)
Hardness: ca. 750 N
Flexural strength F m, test: ≥ 5.8 N/ mm2 (after drying at 40° C)
Flexural strength F m, k: 4,5 N/mm²
Compressive strength: 7.5 N/mm²
Tensile strength: 2.3 N/mm²
Elastic modulus (bending): 3900 N/ mm²

| Code | Description | Inspection Hole | Loom External |
| --- | --- | --- | --- |
| PIATTAGF30X30 | flat trapdoor | 30 X 30 | 50 X 50 |
| PIATTAGF40X40 | flat trapdoor | 40 X 40 | 60 X 60 |
| PIATTAGF50X50 | flat trapdoor | 50 X 50 | 70 X 70 |
| PIATTAGF60X60 | flat trapdoor | 60 X 60 | 80 X 80 |
Other Items in
Technology Plasterfiber